Posts: 1
Joined: Sun Aug 20, 2017 7:01 am
Location: Tuapse, Russia
Hi to all! We are developers from Russia named Brutalsoft and We would like to show one of our gaming projects - Invasion.
Invasion
is a hardcore, hard-to-the-core 2D mix of shoot'em'up and bullet hell, in which you'll be defending the planet from hordes and hordes of alien invaders. Inspired by Galaxian, this game builds upon the great mechanic with new features and sleek modern performance.
Here the game triler + some video gameplay
https://www.youtube.com/watch?v=vk_QRSeaCY4
You love shooting stuff non-stop while your whole screen keeps exploding for days? Then this game's for you, son! Buy and upgrade an assortment of tanks and weapons to roll them into battle! Those machineguns, plasma cannons, railguns, cannons, bombs and missiles will be worth everything you spend on 'em!
And, of course, the game wouldn't be so awesome without the coolest Synth Melodic Progressive Power Death Thrash Speed Everything I Forgot The Words Metal soundtrack!
We seek to develop our project even further, adding new episodes, sweet features, enemies and comic-style cutscenes. Even better, we're also going to expand the soundtrack and remaster it into a solid album.
Your opinion is very, very important to us. We'll pay great attention to your feedback as we work on each and every update to the game.
Here are some of the features we've got for you right now:
- the slow-mo mode;
- the nuclear strrrike;
- the shot deflection ability;
- upgrades for weapons;
- many tanks to choose from, each with a lot of room for further upgrades;
- the sharpshooting reward system and combat statistics;
- and a bloody lot of hardcore massacre action with tons of deadly lead!
Link on Steam -
http://store.steampowered.com/app/622810/Invasion/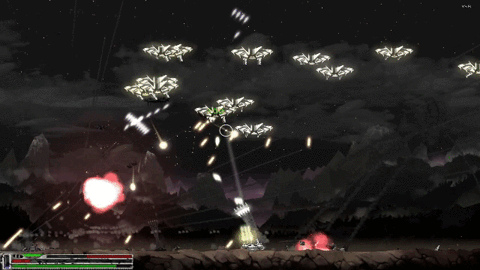 ---
Who is online
Users browsing this forum: No registered users and 2 guests